"Uniting Divine Sistahs" Program & Course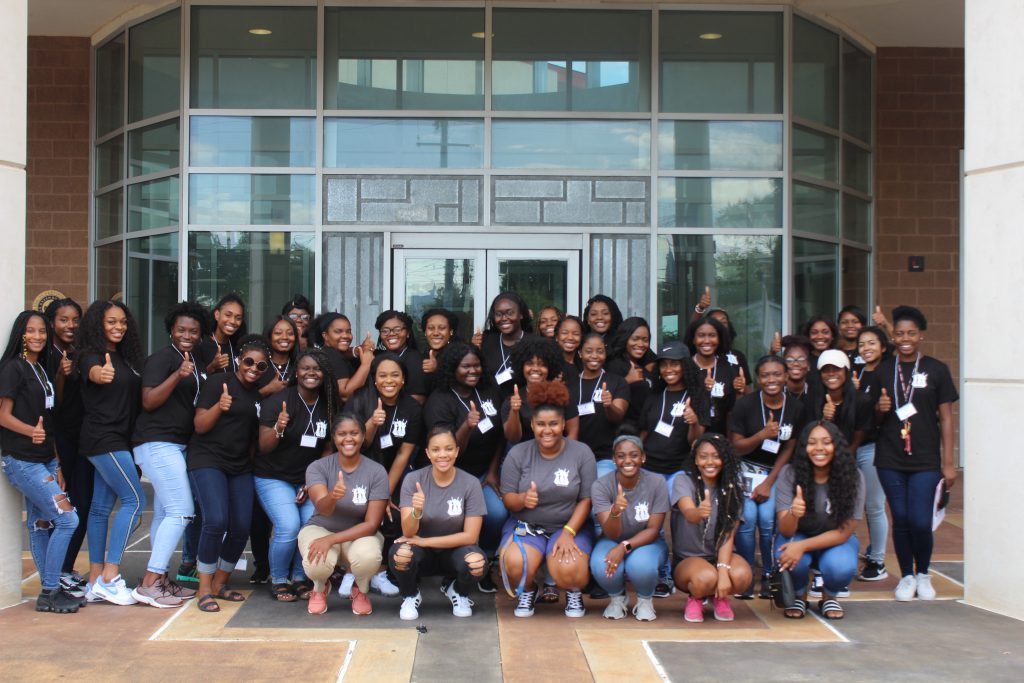 Sponsored by the Texas A&M University
Association of Former Students (AFS)
Whoop! UDS was awarded a 2018-2019 NASPA Excellence Award in the Student Union, Student Activities, Greek Life, Leadership, and related category.
Program Overview:
The "Uniting Divine Sistahs" program/course is a ten-week program/course with new member selected each fall semester by application and interview process. Membership in the course/program is exclusive and highly competitive, offering the opportunity to top applicants. The candidates for membership will be selected based on level of motivation, commitment to self-improvement, desire to participate, and the ability to maintain a level of professionalism throughout the course/program.
The members who are selected will attend weekly seminars and activities and be divided into small learning groups with a predetermined group of women. These smaller groups will serve as break out groups designed to promote and encourage intimate conversation on predefined topics. Each seminar will discuss topics such as Black identity, gender roles, leader identity, body image, and effective goal setting.
Description of the Uniting Divine Sistahs Membership:
The "Uniting Divine Sistahs" course/program is dedicated to empowering African American women of all classifications at Texas A&M University by providing culturally relevant information. The "Uniting Divine Sistahs" course/program is designed to address the development of leader capacity and socially constructed identities. The course/program is an expansion from the pre-existing UDS retreat, which addressed leading in diverse organizations, healthy body image, and challenging socially established gender norms and roles. The course will aid students in their ability to encourage social change, build camaraderie among other women, and develop networking opportunities among women from diverse backgrounds.
Program/Course Objectives:
To become theoretically knowledgeable, well rounded educators that are able to synthesize the concepts of effective problem solving strategies, global accountability, and social consciousness as it pertains to the leadership of student organizations and becoming a global leader.
Upon satisfactory completion of this course, students will be able to:
1. Demonstrate integrity and competence in leadership practices
2. Demonstrate effective small group dynamics
3. Apply intrapersonal and critical thinking competencies
4. Articulate the values, beliefs, norms, and ideals that are embedded in culture and gender which affect leadership behavior, goals and strategies of organizations and education
5. Develop interpersonal and intrapersonal competency
6. Articulate personal leadership style through the lens of culture and gender
Students will be able to:
1. Communicate values, needs, and boundaries effectively
7. Demonstrate willingness to address challenges and pursue opportunities
8. Develop effective strategies to utilize as a student on a predominantly white campus
2. Integrate complex information from a variety of sources including personal experience to form a decision or opinion
3. Develop a vision for professional/personal growth congruent with one's passions, values, and skills
4. Articulate the advantages and challenges of a diverse society
Expectations of Course/Program Members:
Pay $125 registration fee which will cover all resources, meals, transportation, lodging, and a t-shirt
Be actively engaged in all activities
Attend mandatory weekly UDS meetings, retreats, and final projects: Meetings on Tuesdays & Thursdays at 3:55-5:00 pm
Attend Retreat on specified date
Attend NPHC sororities programs or service activities
Members with less than a 2.5 cumulative GPA are required to enroll in an academic skills training program through Student Counseling and must receive a certificate of completion
Maintain contact with Executive Board
Comply with the UDS Code of Ethics
Complete content questionnaires
*You have to register yourself for the course component LEADERSHIP & IDENTITY DEV – 39924 – ALED 324 – 500.*
The course will be a (3) our course credit listed as ALED 324. If selected and interested in the course option. Please register once you receive the acceptance e-mail. 
Due August 29, 2019