Spring 2018 Make-Up Anti-Hazing Workshop 
Thursday, April 12, 2018 Rudder 701 7:00 p.m.
STOMPFEST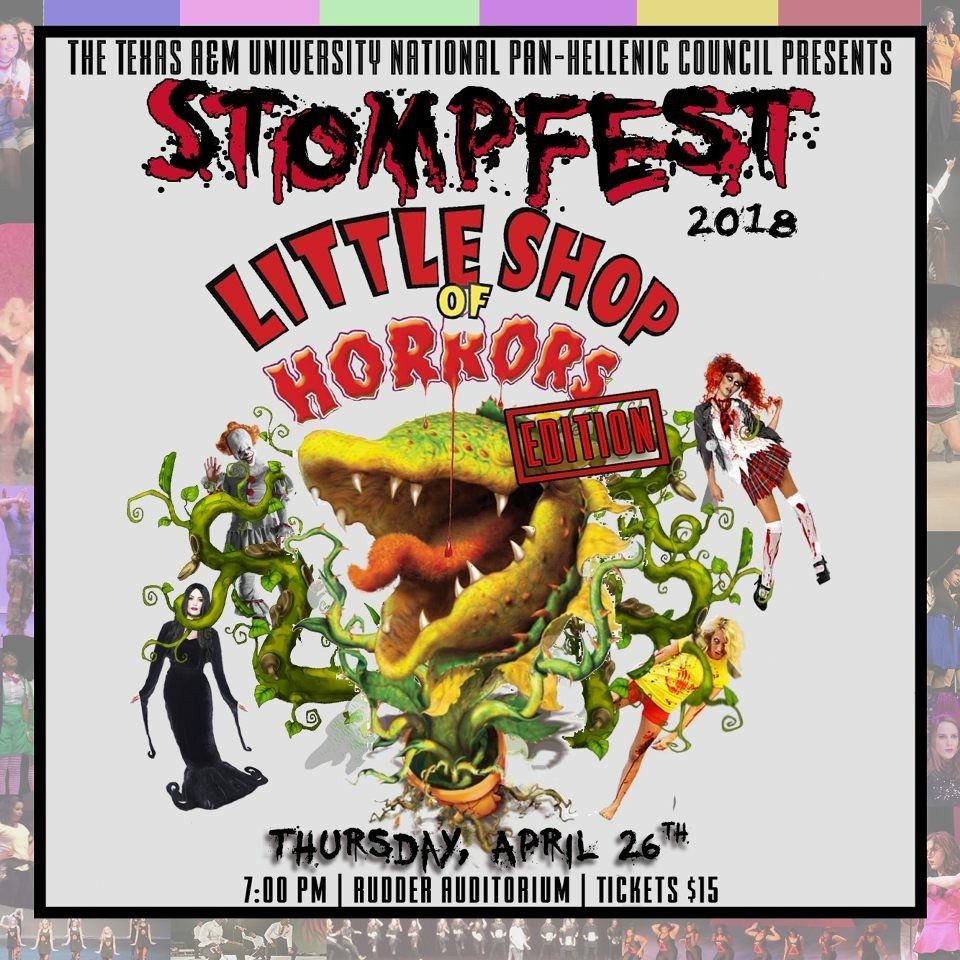 Spring 2018 NPHC Week 

Black Panther Theme
Monday, January 15 – Dr. Martin Luther King, Jr. March  10:00 a.m. Sadie Thomas Park (129 Moss St, Bryan, Texas 77803)
NPHC member organizations will participate the march. This event is annually hosted by the Brazos Valley Alumnae Chapter of Delta Sigma Theta, please visit their website for more details. 
Tuesday, January 16 – Anti-Hazing Workshop 7:00 p.m. Rudder 601
This workshop is mandatory for anyone interested in joining a Greek Letter Organization in NPHC. Attire is business professional, inappropriate attire will be denied participation. The workshop is hosted once every semester. Up-to-date attendance is necessary to be eligible for membership intake.     
Wednesday, January 17 – Black Card Revoked 7:00 p.m. Rudder 601
Come enjoy a cultural game night with us. This game tests your knowledge of Black Culture, failure to response correctly and you may get your Black Card Revoked!  
Thursday, January 18 – Open Forum: The Black Aggie Experience 7:00 p.m. Rudder 601
Join us for a riveting discussion about YOU as a Black Aggie! We want to hear your perspectives and challenges as TAMU students, so that we can communicate it to our administration. Say it loud…
Friday, January 19 – Yardshow  7:00 p.m. Rudder Theatre – Theme: "Stick to Your Roots"
We host the yardshow each semester to display our organizations' unique stepping styles and historical influence.  
Saturday, January 20 – Closed event: Council Retreat 10 a.m. – 5 p.m.
For members only. 
Sunday, January 21 – Church Service 11:00 a.m. First United Methodist Church (1125 Wellborn Rd. College Station, TX 77840)
Attend a church service. 
Fall 2017 NPHC Week 
Monday, August 28  Greek Assembly 7:00 p.m. MSC 2406  POSTPONED UNTIL WEDNESDAY
Tuesday, August 29  Social Media & Interview Tips 7:00 p.m. MSC 2406B CANCELLED
Wednesday, August 30  Hump Day BBQ 7:00 p.m. Vice President for Student Affair's (VPSA) House – Backyard RESCHEDULED TO SEPTEMBER 13th 
Wednesday, August 30  Greek Assembly 7:00 p.m. MSC 1400 
Thursday, August 31  Guy Code vs Girl Code 7:00 p.m. Rudder 301
Friday, September 1  Yardshow  7:00 p.m. Rudder Theatre
Saturday, September 2  Anti-Hazing Workshop 10:00 a.m. Interdisciplinary Life Sciences Building (ISLB) Auditorium 
Sunday, September 3 Church Service 11:00 a.m. First United Methodist Church